We know you've worked hard on your cheesy pick up lines and dad jokes, but you won't have the opportunity to use them if we don't even match with you. So, I polled and chatted with women (on Instagram of course) and put together a list of common complaints that will almost always make us swipe left.
Make sure you don't make these mistakes, that way you can capture our attention and give your one-liner a try. (Disclaimer: This is going to be a longer article, but I promise you, it's worth it.)
First things first: Fix your photos.
Apps are visual, whether we like it or not, so you want to make a great first impression. You can be the hottest dude in town but we'll still swipe left if you do these things:
⬅️ You only have one photo.
Why bother setting up the app? Put in at least a little effort.
⬅️ Your photo quality sucks and we can't see you.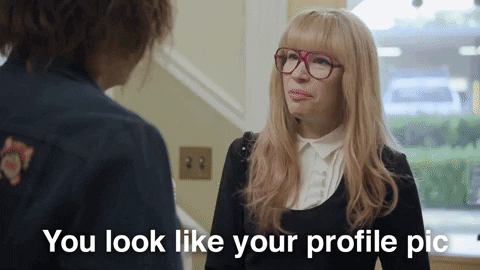 It's not 2002, please don't upload blurry photos that were taken on a flip phone. You don't have to have legit professional photos taken, but at least get a friend with an iPhone to snap a few for you in Portrait Mode.
Make sure at least most of your photos are close enough that we can see your face. Lose the hat or sunglasses; you're going to make us think you have something to hide. No one is perfect, so have some confidence.
Unless you're still in high school, never use cheesy Snapchat filters. I know y'all hate it when girls do, so grow TF up and keep them on that app.
⬅️ You have too many group photos.
No one wants to sit around trying to figure out which dude you are in the group. Obviously you want to include a photo or two of you with other people to show that you're not a creepy loner, but it shouldn't be your first photo and you definitely shouldn't have more than two photos of you with other people.
"But I scratch out/put emojis over the faces of the other people in my photos," you say?
RED FLAG, we say. Especially if that other person is clearly a chick/potential ex girlfriend (which is also a hard pass for most of us).
⬅️ Most of your photos are selfies.
Guys. It is really not that hard to just ask someone to snap a photo for you real quick. If you're not comfortable asking a friend or stranger, ask your mom. She'll love it and probably want it framed.
Mirror selfies are also a hard pass, especially if you're not wearing a shirt. I really don't care how nice your abs are, you look like a douche bag.
⬅️ Your photos are CLEARLY out of date.
By this I mean you're trying to show off your "glory days." We don't care what you looked like in your high school football uniform and we really don't care what your baby pictures look like. Leave those in the scrapbook for your mom to show us once we're both DTR.
You have our attention. Now let's talk about your bio…
Or in the case of many apps nowadays, the question/response portion.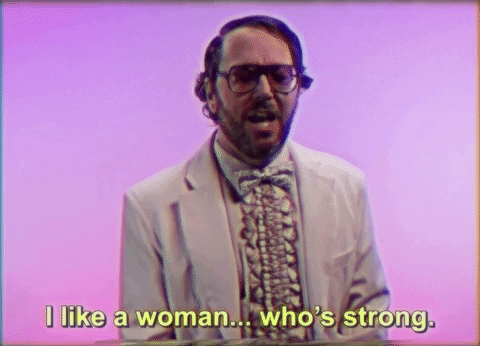 ⬅️ You don't have a bio.
Yes, I said apps are visual, but we're girls and we need a little more than that. Again, put forth some effort and add more than just your Instagram/Snapchat handles.
⬅️ You don't have any creativity in your bio.
Don't get me wrong here, I'm not saying you need to be the Great American Author or anything, but there are a lot of Q&A's that we see over and over again. It's as simple as going from one word (ie; travel) to a teaser about a recent trip you went on (that also gives us something to chat about if we match).
⬅️ You mention anything negative (about dating).
We don't want to get to know you when our first impression of you is negative. No one wants to see "swipe left if you're just here for a pen pal," etc. If we wanted to chit chat with strangers, we'd join a Facebook group or something, we're on this app because we want to date. Not everyone is going to hit it off right away, and not everyone is going to want to meet up within the first few messages and that's fine. But leading with something negative just makes you look like a jerk, not like someone who taking dating seriously.
⬅️ You reference politics in any way.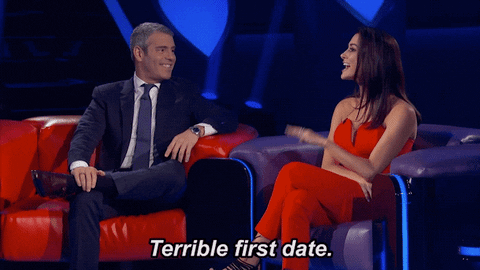 Whether you're wearing a MAGA hat in a photo or you have a comment like "Trump voters swipe left," it's polarizing. We're going to assume that's something that we are constantly going to have to discuss with you. This isn't about what your political leaning is, it's about the fact that you have to add it to your bio.
Today's climate is extremely polarized and many people are sensitive to the overabundance of media and discussions. I understand politics may be important to you but I'd challenge you to think long and hard if opposing political views are truly a deal-breaker for you. If it is, you're not someone many of the women I polled want to be around. If it isn't, get that shit off your page because you're not just alienating the group of people who oppose your opinion, you're even alienating the people who may "agree" with you.
…Also, isn't there some old adage about not bringing religion or politics up on the first date?
One final tip…
Have a female friend review it once you're done. A second set of eyes will help finalize any random tweaks you may have missed (ie; using the wrong "your") and also give you more confidence in it. Just make sure it's not one of your bros because odds are, they've got the same issues you do.
Hit up a chick you trust or even a family member. Once you have a woman's approval, you should be good to go! Happy swiping!